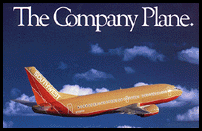 Southwest Airlines Historical Advertising Gallery
A Look at Past and Present Southwest Airlines Print Ads
Advertising has been an important part of Southwest Airlines' storied history since 1971. This section of our website is a collection of our more memorable advertisements from the past. Collectively they tell the Southwest story in an entertaining way. We think you will get a kick out of them.
The advertising gallery consists of print and video advertisements.
A note of caution -- many of these files are quite large (30k - 105k). As a result, they may take longer to reach you, depending upon the speed of your modem. You might need some patience to view many of these print advertisements.

A New Collection of Advertisements from Southwest Airlines!
Updated August 25, 1999